The blog has been rather neglected for the past  months. I've had successful treatment for a second bout of Lyme disease (the ticks and I both like living in the woods), and my husband had a liver tumor removed. So, it was a chewy medical time, and other things had to wait. We are both doing much better, and I'm back at it. Almost out the door to the National Council on Education for the Ceramic Arts (NCECA) conference in Milwaukee tomorrow (3-17-2014)
The die cutter continues to intrigue me. I'm still working my way through some video tutorials and online info. The software does amazing things, but some days I have trouble figuring out what I don't know to get where I want to go. I've been working on some cards in cardstock to learn the software – paper is cheaper than other materials, and there are bound to be failures while learning. The manual for the Zing die cutter says to experiment: you're bound to have failures, but you will learn a lot. A good attitude. There is a great deal of info online, and I'm working on a handout for my web site to list some of those resources.
In studio, I had cups. I wanted to do some sunflowers. Realism isn't a big goal for me. Many of the plants I paint are made up, rather than descriptive of a specific plant or fruit – the generic idea of plants, leaves, flowers, fruit. But even within stylization, there are some shapes that are harder to make with a brush in one fluid stroke. With majolica, the overlaps often show. So, I made some Tyvek stencils of wide leaves with toothed edges.
The stencils won't stick to raw glaze, so I am reduced to just holding them on the cup to mask my brush stroke,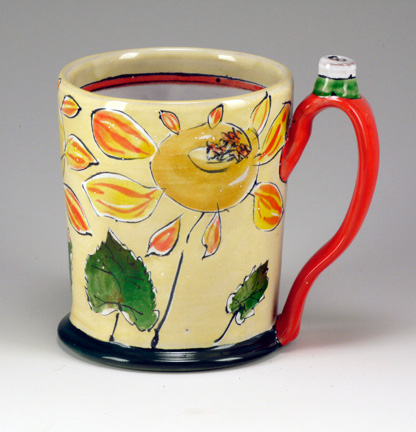 preferable with the cup on its side so the stencil sits with gravity helping. The results are not as crisp as a slip stencil, but it does help me get closer to that broad leaf shape with a toothed edge in one stroke with a big, soft brush.
At NCECA, I will be the point person for an NCECA Connections group for die-cutter shop talk, Friday, 5 pm. Check the program or with the NCECA booth for location. The Ceramic Art Cart/Keraflex people are testing some un-leaded sheets of solid decal color, and kindly provided samples sheets in a number of colors. Last night I jammed on it and did my first decal cuts on the die cutter, using their samples. Took some adjusting to get the right blade depth (check the sample cut on the decal medium itself, not just the backing), force (80), speed (6- which is s-l-o-w), and cut (2 passes). The first time with less force and one pass, didn't cut through. Worked better with the settings listed, but this is a very slow cut. Decals were put in water, slid onto the cup once loosened from the backing, patted dry, and fired to 017 slow in my test kiln. Results below. This is how I would like to imagine I feel in the morning. I was thinking about getting up early and how some days coffee makes the sun rise. The brown decal sheet was the right coffee color. These were done on top of an already glaze-fired, plain white body majolica cup. Yellow, ochre, chocolate, and grey decal sheets used. If you're at NCECA and want to talk shop about die cutters, come find the Connections group.