Contact Linda
List of things below I suggest you bring for our class. May vary depending on the venue. Please be sure to mark your tools with your name or some sort of identification. We will be using terracotta and firing to cone 04-03.
For workshops where students are bringing terracotta bisque: a red clay that fires to cone 03-04 is good. I prefer very fine (90 mesh) grog, or un-grogged. If you have clay w/grog, rib any trimmed areas smooth after trimming. The small air pockets caused by dragging grog will hold air and make pinholes in the finished glaze. See the handouts page for clay recipes if you're mixing your own. Otherwise, ask your local supplier for a clay suggestion for cone 03 majolica work.
Decorating colors and base glaze will be available at the workshop.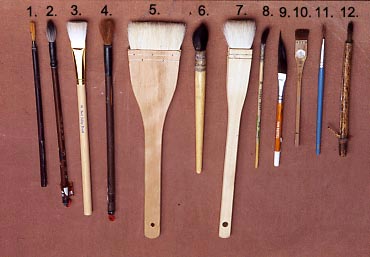 Some brushes helpful for majolica. Wide brushes are used for putting in background color. Various Japanese brushes 1,2, 4. Hake brushes 5, 6. China mop 6, quill liner 8. Dagger liners 9, 11. 12- hand-made brush by Keith Lebenzon
Supplies suggested for decoration-only workshops -
check w your venue - they will probably supply things like food coloring and sandpaper
banding wheel for turning the work as you paint or striping round things - optional.
bisque ware to practice on. See above. Modest-sized pieces are suggested. A form with non-radial axis gives you more to work with in decorating than round forms (on a round form all points are the same distance from the center). I have often used hump molds made from small oval soap dishes, or styrofoam vegetable packaging, and added feet and rims. Working in series and bringing multiples of the same general form is a very good way to see the visual results of your decorating decisions.
brushes: for majolica: a range of watercolor-type, hake, Japanese, etc. Hake brushes are good for background color application. Need not be expensive, but several sizes and shapes would be helpful (pointed Japanese-style brush, flat wide hake type for putting ground). Plus an inexpensive Japanese brush for wax resist work
plastic palette, or a retired ice cube tray or styrofoam egg carton, but find something white so you can more clearly see colors.
mini-whisk for mixing up small amounts of colorants

shop towel, apron
x-acto knife, scissors, straight edge/ruler
plastic palette for using and mixing colors
plastic spoons - several for mixing and spooning out colors
food coloring: one small bottle of any color to color wax resist is helpful
sandpaper: small piece of 400 grit wet-and-dry sandpaper
slides: 5 slides, pictures or a sample of your ceramic work if available to share w/us
sketchbook (one already in progress is good)
If you're driving and have space: old newspapers are handy
small jars - several for tableside use of wax resist and maybe a color or 2 we'll mix (2 or 4 oz. containers or recyled underglaze jars, or whatever with lids).
bulb syringe (infant enema w/removable nib)
tiles - 3 or so to make color tests on for future reference. 6-inch square, at least 3/8" thick are good.
small water containers for clean water and to wash brushes
sponges: working and cleanup. A small sponge for cleaning up waxed motifs
packing material for taking your work home.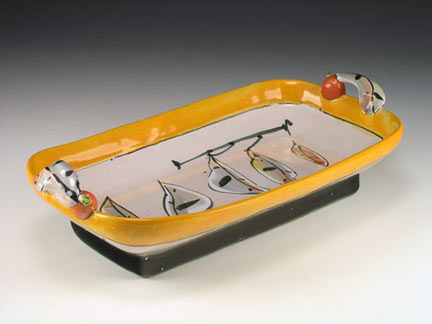 Rectangular dish made from a mold off a styrofoam asparagus package w/added rim and foot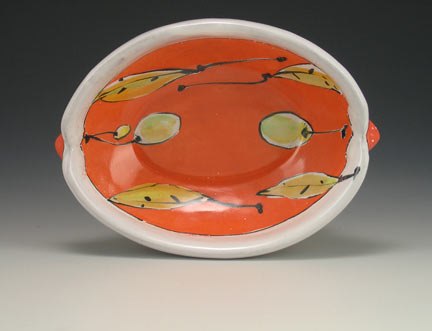 Small oval dish made from a mold off a soap dish, w/added rim and foot.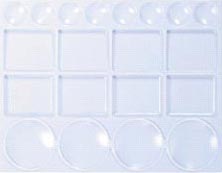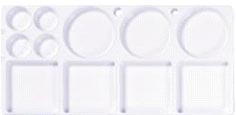 Types of plastic palettes helpful for working w/majolica decorating colors.
cut-off wire
banding wheel is very helpful when building forms as well as decorating
Kemper mini-extruder if you're handbuilding
serrated rib for scoring
fettling knife
hump or slump molds if you need them to handbuild your work
hair drier or heat gun to speed up things (optional)
respirator or particle mask (safety)
2 pieces unsized canvas or cotton duck for rolling slabs (? 30" x 36")
scraper (plastic or metal, 6" to lift batts, smooth clay)
Sur-form (small, curved shape) rasp (hardware store item)
wooden paddles for shaping
small bucket
plastic to cover work in progress
flexible metal rib, shaping ribs,
rubber kidney - flexible rib for smoothing. I prefer the Sherrill Mudtools Rib in red.