Current events:
---
Northern Clay Center
2424 Franklin Avenue East
Minneapolis, MN 55406
map link
Light of Day
On view May 6 – June 25
Main Gallery
Virtual 3D Tour on view May 11
Free public opening reception Friday, May 5, 6 – 8 pm

This summer, Northern Clay Center will explore the permanent collection archives and bring significant works of ceramic art into the light of day for a public viewing. The exhibition promises to offer the rediscovery of the relationships built over three decades of service to the field and the works acquired along the way.
Works by the following artists will be exhibited: Dan Anderson, Linda Arbuckle, Chuck Aydlett, Nino Caruso, John Chalke, Paul Chaleff, Soojin Choi, Sam Chung, Kelly Connole, Isadora Cuellar, Stephen De Staebler, Edward Eberle, April D. Felipe, Arthur Gonzales, Shirley Johnson, Jun Kaneko, Karen Karnes, Joseph Kress, Eva Kwong, Beth Lo, Peter Lupori, Warren MacKenzie, Kirk Mangus, Tony Marsh, James Melchert, Ron Meyers, Egidijus Radvenskas, Mary Roettger, Annabeth Rosen, Amy Sabrina, Tatsuzo Shimaoka, Hide Sadohara, Linda Sikora, Michael Simon, Madhvi Subrahmanian, Robert Turner, Betty Woodman, and Patti Warashina.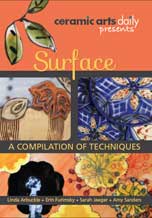 Ceramic Arts Daily DVD: Surface: A Compilation of Techniques
"Surface decorating with the pros
When it comes to learning new surface decorating techniques, nothing beats a live demonstration. In this new compilation form Ceramic Arts Daily Presents, join Sarah Jaeger, Linda Arbuckle, Amy Sanders and Erin Furimsky as they show you some really cool ways to decorate using a variety of techniques. Gathered from their full-length videos, these robust projects focus on different ways to creatively enhance your surfaces and inspire fresh ideas."
500 Teapots Volume 2, Lark Books, 2013. Jim Lawton juror. Work pictured. P. 11, 13.
Posted online from the article in Ceramics Monthly, Jn/Jl/Aug issue, v.59 no. 6,
The Colorful World of Majolica: A Beautiful Low-Fire Pottery Glazing Technique

Maiolica, Daphne Carnegy, A & C Black, London. Work pictured, cited.
(buy from Amazon) Maiolica (Ceramics Handbooks)

Arbuckle, 2015, Yunomi: Low-hanging Purple Fruit. Majolica on terracotta.