Current events:
---
Online exhibition:
Noodle Bowls
Richard Aerni, Linda Arbuckle, Mariana Baquero, Hayne Bayless, Lesley Bevan, Catherine Boswell, Bill Brouillard, Richard Burkett, Ben Carter, Bede Clark, Avesha DeWolf, Lily Fein, Celia Feldberg, Phil Haralam, Nathan Hood, Matthew Hyleck, Walter "Wally" Hyleck, Greta Michelle Joachim, Shikha Joshi, Nikki Lau, Claire Lenahan, Reiko Miyagi, Andres Montenegro, Dwayne Nii Teiko-Sackey, Holly Oyadomari, Julie Spako, Sara Truman, Momoko Usami, Stephanie Wilhelm, Erik Wilson

Opens online Monday, December 4, 2023, 10:00am EST
Charlie Cummings Gallery
Article on digital die cutter use in studio, New Tools, New Possibilities in Studio Ceramics, originally published in March 2015 issue of Ceramics Monthly, pages 54-59. http://www.ceramicsmonthly.org . Copyright, The American Ceramic Society. Reprinted with permission.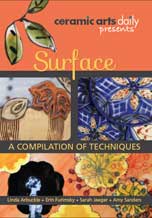 Ceramic Arts Daily DVD: Surface: A Compilation of Techniques
"Surface decorating with the pros
When it comes to learning new surface decorating techniques, nothing beats a live demonstration. In this new compilation form Ceramic Arts Daily Presents, join Sarah Jaeger, Linda Arbuckle, Amy Sanders and Erin Furimsky as they show you some really cool ways to decorate using a variety of techniques. Gathered from their full-length videos, these robust projects focus on different ways to creatively enhance your surfaces and inspire fresh ideas."
500 Teapots Volume 2, Lark Books, 2013. Jim Lawton juror. Work pictured. P. 11, 13.
Posted online from the article in Ceramics Monthly, Jn/Jl/Aug issue, v.59 no. 6,
The Colorful World of Majolica: A Beautiful Low-Fire Pottery Glazing Technique

Maiolica, Daphne Carnegy, A & C Black, London. Work pictured, cited.
(buy from Amazon) Maiolica (Ceramics Handbooks)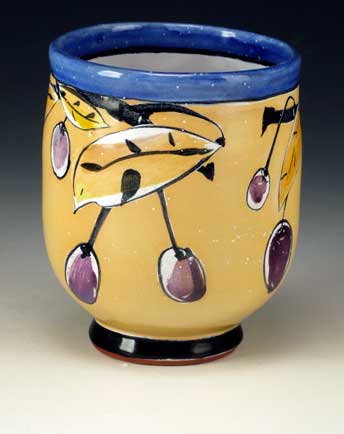 Arbuckle, 2015, Yunomi: Low-hanging Purple Fruit. Majolica on terracotta.